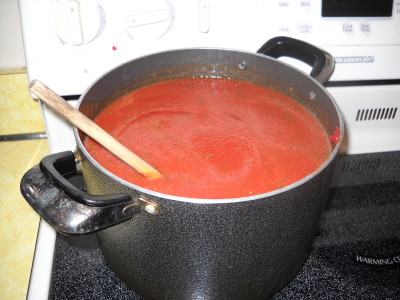 Italian Sauce can vary from family to family, but we take our sauce very serious and we always think our way is the best. It can also depend if you come from northern or southern Italy. We also don't eat everyone's sauce, we're picky about where we go to eat Italian food. Different parts of the country don't carry all the brands so you may have to use what's available to you….. or write me and I'll have to send you the "real" stuff. I have found an Italian import store called Clara's should you live on the west coast.
  Let's get started: Go Shopping!
** Make sure you have a BIG Pot!!
1 lb sweet Italian sausage (I know some places like NC doesn't carry it fresh so you'd need to look in the freezer aisle, unless you have an Italian import market)
2 pork chops- (with bone)
Olive oil – 2-3 tbs
Garlic- 2 cloves- you can also use garlic powder (1 tsp) but the real thing is better!
Parsley- 3 tbs- ( I measure this by my palm- I pour it in the palm of my hand and crush as I add it)
salt- 1/2 tsp- (you may need to add more later)
Italian seasoning- 2 shakes (sorry…1/4 tsp)
Basil- I use 2 fresh basil leaves (in produce) We grow our own and freeze it 🙂
pepper- 1/4 tsp
4 cans 28oz peeled Italian tomatoes or crushed tomatoes (I use Tuttorosso or Progresso…try to stay with something Italian)
5-6 cans 6 oz tomato paste (I use Contadina)
2 cans of water (use the tomato cans)Coat bottom of large sauce pot with Olive oil
NO SUGAR- Sugar is only added if your tomatoes are acidic – and if you need to add it, only do a pinch at a time.
Brown sausage and pork chops (once you get it down- you can try braciole or to go spicy add pepperoni)
Once meat is browned- finely chop 2 cloves of garlic and add to pan—-cook garlic..not letting it burn
While that's cooking- open your cans of crushed tomatoes
One can at a time pour into blender (add the basil leaves to one)- to stay ahead, I pour them back in the can, so I can have them all ready
Pour all the tomatoes into pot
Add 2 cans (from tomatoes) of water to sauce…I'll pour into each can so I can get all the leftover tomato
Now add- parsley…..pour in palm and crush as you pour in pot
Add Italian seasoning, salt, and pepper
Stir in spices — Use a wooden spoon (that's what Nonni does)
Now add your tomato paste- it's thick and clumpy but keep stirring- this is what's going to thicken your sauce
Turn to LOW- if you have a splatter guard- use it- do not cover-
Cook for at least 3-4 hours- stirring every 10 mins in the beginning, then maybe every 15 mins or so. Keep watch of the bottom…some pots will burn the bottom of the sauce- if this happens- DO NOT scrap it up into the sauce or it'll taste burnt.After about 2-3 hours you can do a taste test on bread- do NOT dip the bread into the sauce, this is a huge no no, take some out and put it in a dish or bowl.
That's it- Done- cook your roni's and add your sauce, top with grated cheese. You will have lots of sauce left, but you can freeze it.
Couple things to know- If you're cooking on an electric stove- you may want to get a burning preventer
Also depending if you're Italian or Sicilian the sauce is made different. We don't put onion in it but some people do- you can always try one with some onion powder(1/2 tsp) to see if you like it.